Nebraska Public Power District Economic Development Manager Nicole Sedlacek, CEcD, has been awarded the Rocky Mountain Electrical League (RMEL) Emerging Leader Award.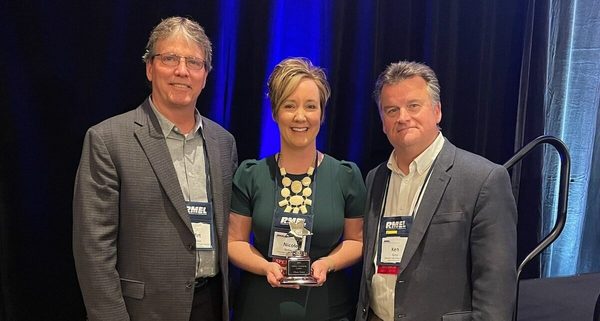 Sedlacek (pictured, middle) with NPPD Vice President Energy Delivery Art Wiese (left) and Special Assistant to the CEO, Ken Curry.
The award recognizes high-potential individuals who have five to 10 years of electricity utility experience and are known for their significant contributions to their organizations, and who also possess qualities that align with future leadership skills and success.
"Nicole has excelled as one of Nebraska's premier economic development leaders in many ways. This includes being an active member on the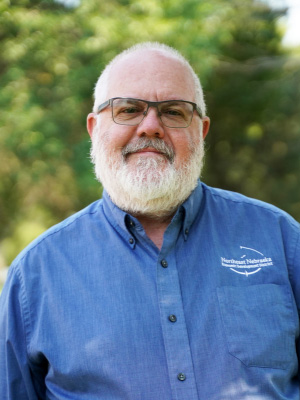 Northeast Nebraska Revolving Loan Fund (RLF) Committee since 2012 when she was the executive director of Holt County Economic Development," said NENEDD Loan Specialist Jeff Christensen. "We truly appreciate Nicole's commitment to the small business environment as an active member of the Northeast RLF Committee. Congratulations Nicole.  Well deserved recognition. The Northeast RLF Committee is a 9-member group that reviews Northeast Nebraska Economic Development District's and Northeast Economic Development, Inc.'s monthly business loan applications and makes recommendations to the Board of Directors for approval."
Nicole's leadership as the Economic Development Manager has been an integral part of NPPD's Economic Development success, and I'm proud to work with her," said Vice President of Customer Service & External Affairs Courtney Dentlinger.
Sedlacek joined the Nebraska Public Power District Economic Development team in 2016 after spending more than 10 years as the Executive Director of the Holt County Economic Development Agency.
She leads a team of seven Economic Development professionals throughout NPPD's service area, providing recruitment, retention, and community-related services. In 2022, under her leadership, NPPD was named the top utility in Economic Development by Site Selection magazine.
Nicole serves as Chairperson for the Nebraska State Chamber's Economic Development Policy Council. She is a Certified Economic Developer, recognized by the International Economic Development Council. Nicole is a past president of the Nebraska Economic Developers Association (NEDA). She also serves on the Northeast Community College Board of Governors and the O'Neill Community Foundation Fund Advisory Committee. Nicole received her degrees from Northeast Community College and Bellevue University. She is a Gallup Certified Clifton Strengths Coach.
"I am honored to receive this award, and I'm grateful for the leadership at NPPD who nominated me and continue to provide challenging opportunities and leadership to help grow and expand my utility knowledge," Sedlacek said.
RMEL is a not-for-profit energy trade association that has served the electric utility industry with a variety of education and networking services since 1903.